Cootie COVID Catcher Fortune Teller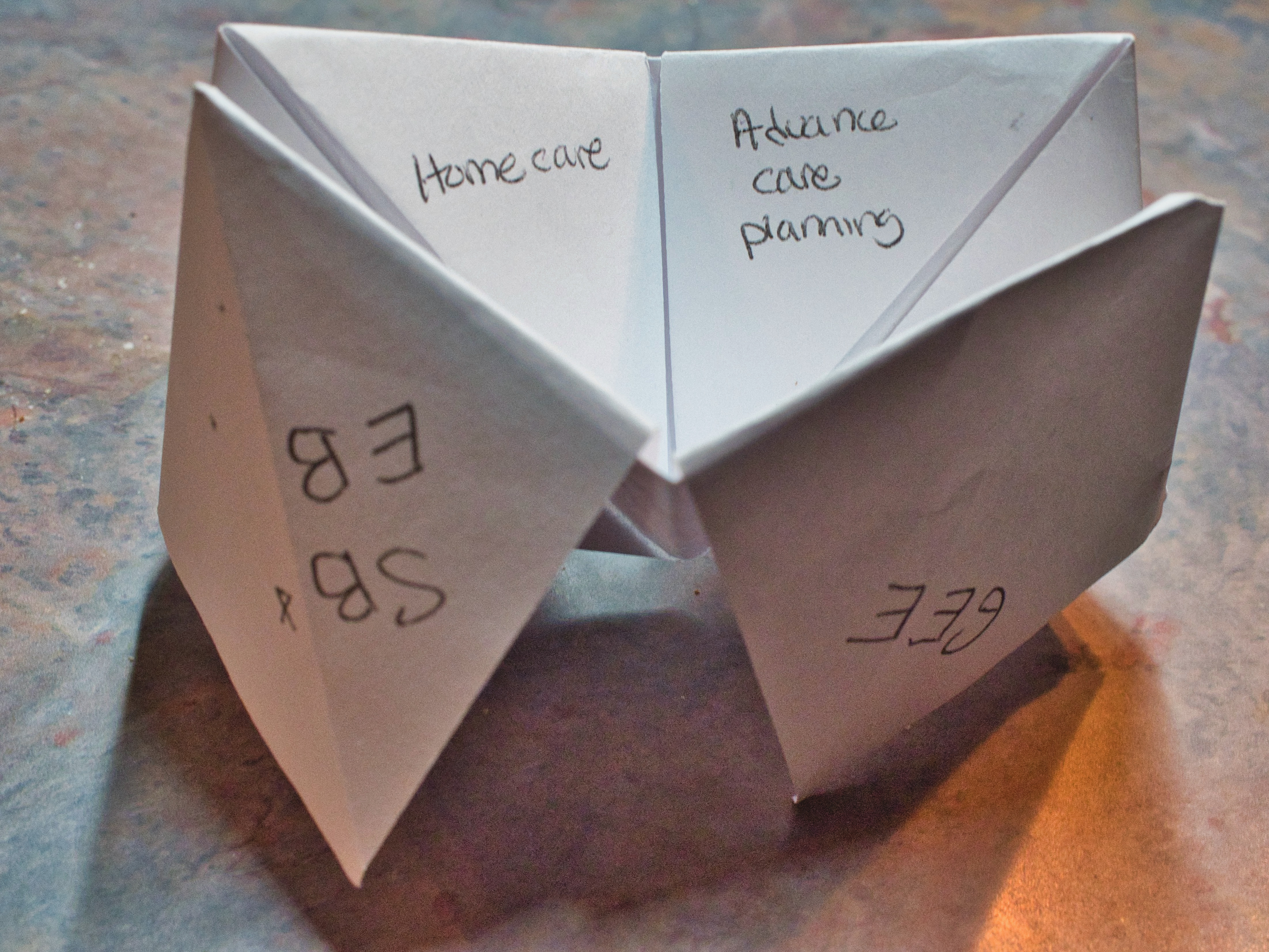 A cootie-covid-catcher-fortune teller (CCFT) is a homemade tool designed to boost team morale.  When envisioning this device, I wanted to make something that we could all hold physically and share virtually, that encouraged play, that invoked comforting childhood memories, and that referenced the uniquely painful-but-funny moments of our work.  On the top CCFT triangles are the On Lok site names.  Like the cootie-catcher-fortune teller of our youth, one rotates the triangles to reveal a new set of choices, each related to an aspect of PACE care.  Pick a choice, flip it open, and get a funny fortune or anecdote.  Land on "incontinence supplies"? Watch out for "Out of pull-ups, CODE BROWN."  "Telehealth" predicts that "Grandson zoom-bombs."
Low team morale feels universal right now.  While we used to lean on each other, now we each struggle from afar.  On Lok has been combatting this morale sink with frequent shout-outs and employee recognition, zoom-based group meditation and yoga, and care packages with new company swag. In the end, hopefully the vaccine will be our ultimate moral booster, but for now we can all play with the CCFT, side-effect free.
---
Want to build your own?
The top 4 are the names of our sites: Gee, Powell, 30th & IA, SB & EB
Next, group with what's underneath: 
Incontinence supplies: Out of pull-ups, CODE BROWN!

Triangle: What's under the tap when you lift it

Incontinence supplies - -> Out of pull-ups, CODE BROWN!

Homecare: Family volunteers to pericare!

Telehealth: Grandson zoom-bombs. 

It's in Pacelink: Just 11 clicks away (our EMR)

Contact investigation: Don't worry, everyone wore goggles.

Loteria: Got the Apache card?  See Sofia for cultural sensitivity training.   (Loteria--mexican card game the participants play, one of the cards is apache.  Sofia is our training modules)

IDT conflict: Claws are out! Good thing we are on zoom.

Mahjong: Tile Injury! Wound care goddess to the rescue.  
(Some are inside jokes, as you can see.)
There are several how to videos and templates available online, one example: https://www.thesprucecrafts.com/make-an-origami-cootie-catcher-4121204
Share this post: