The CALTCM Wellness Committee invites you to participate in the CALTCM Book Club.  
What is a Book Club?
Book clubs provide an opportunity for readers to share information and the pleasure of reading. The main purpose of establishing book clubs is to encourage people to read and share information. One of the most critical steps in establishing a book club is identifying people who are already passionate readers. If you like to read, we want you to join us.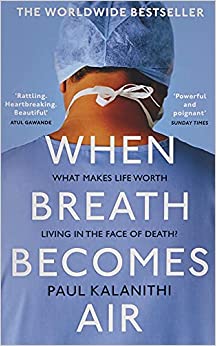 When Breath Becomes Airby Paul Kalanithi

At the age of thirty-six, on the verge of completing a decade's worth of training as a neurosurgeon, Paul Kalanithi was diagnosed with stage IV lung cancer. One day he was a doctor treating the dying, and the next he was a patient struggling to live.

  The book is available in libraries and major book and retail stores.  Note: "Libby" is a free app for your smartphone that connects you to multiple libraries, you can borrow both e-copies and audiobooks. Discussion InformationHappy Hour Book ClubNext Meeting: Thursday, May 11, 2023 - 6:30-7:30pm

The CALTCM Book Club discussions will be held virtually, this event is free and open to members and non-members (Furry friends are welcome too.)

After registering, you will receive a confirmation email containing information about joining the meeting. See you there!